Simulation and AI for polymer extrusion processes
EMC3 Consulting partners with IANUS Simulation
Founded in 2006 as a spin-off from Dortmund University of Technology (TU Dortmund), IANUS Simulation now has three sites in Germany and over 70 employees. The company develops
CFD (Computational Fluid Dynamics) simulation software enhanced by AI (Artificial Intelligence)
algorithms, for a variety of applications such as the extrusion of thermoplastics and elastomers, as well as pumps, mixers and heat exchangers.
EMC3 Consulting represents IANUS Simulation for the French industrials.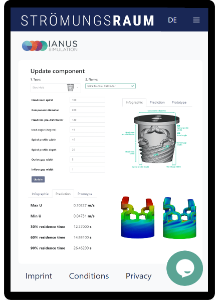 StrömungsRaum, multiphysics CFD simulation with AI
"FlowRoom" is a software
application dedicated to simulating extrusion processes for polymers
. It is used to optimise the design of extrusion line tooling (dies), to see how the plastic or rubber pushed along the screw behaves, or to determine the best position for sensors on the line. There is no need for a specific workstation: the simulation is carried out on high-performance clusters in the cloud, connected
from your web browser (PC, tablet, smartphone)
. It requires no expert thanks to its
user-friendly, minimalist interface
.
SAVE up to
On the costs associated with developing a new extrusion die for a new profile: raw material, energy consumption, deployment of an operator.
No annual or perpetual license

Flexible packages with a number of simulation runs per month tailored to your needs
Custom GUI (Graphical User Interface)
Automated simulation reports
Technical support within the application